When you go to bed tonight, Hug your kids a little closer and say an extra prayer for Ezra. If you don't have children, or they are already grown, say an extra
prayer
for Ezra and his family anyway.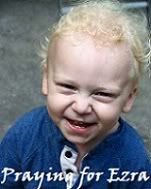 Ezra is a sweet 2 year old little boy who was recently bitten by a spider or some other bug, I'm not sure they ever found out. He wasn't feeling well or acting "himself" and had started to limp. His parents assumed he was having a reaction to the bites and took him to the doctor. What happened as a result is mind-boggling and heart-breaking. X-rays showed abnormalities in the leg bone and cancer was the suspected reason. A trip to the
pediatric
oncologist confirmed the families worst nightmare and Ezra is currently undergoing chemotherapy and will be for a minimum of 3 years. It breaks my heart to think of this small child and all he will have to endure. I can not imagine what the parents are going through. The family is in my prayers.
You can read more about Ezra's condition as well as how the rest of the family is coping over at
Manic Mother
. You can purchase bracelets in support of Ezra, donate directly to the family through
paypal
or just offer some kind words of encouragement and some prayers.
This is one of those things that no child or parent should have to go through and I know that showing support in any form is appreciated more than we will ever know. Go on over now.