This post brought to you by CelebrityCruises.com. All opinions are 100% mine.
It's no big secret that I'm a fan of wine.  I'm also adventurous and constantly seek out new varietals to sample.  When I saw this video...
My first thought was, "How can I get Celebrity Cruise Lines to bring me along on their wine adventure?"  This is an amazing collection in a spectacular storage system.  Self serve machines?  What?  We need those everywhere.  Putting them in the malls at Christmas time may get me actually out shopping instead of doing it online from home.
Celebrity's Wine Experience has several offerings to the wine enthusiast regardless of where you are in your wine journey.   The have workshops like Wine Appreciation 101 as part of their onboard activities and entertainment programs.   They have Specialty Wine Cruises that offer a series of Savor Your Destination Wine Cruises which feature guest Vintners that help not only your knowledge of wine but your appreciation of it as well.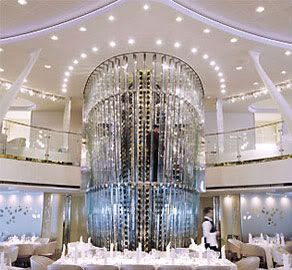 How beautiful is that?  All Solstice class ships have one of these.  Created by Artist Adam Tiharny, it holds 1800 bottles of wine... and is AWESOME.  I really need to see one of these up close.  As a former restaurant Manager/GM I feel for the person(s) who must maintain the inventories on these ships.  With a selection of 480+ wines on Celebrity's Solstice, and 350+ on Millennium and Century class ships, someone has their hands full.  What a great job that would be.  I think I would really enjoy helping decide which 480 wines to serve.  Wouldn't you?
So tell me.  Have you seen this up close and personal?  Can you share some pictures? Does Celebrity need on on-board blogger? *Stands and raises hand enthusiastically* 
Start talking.