This post brought to you by
TABASCO® Original Red
. All opinions are 100% mine.
I love hot sauce. I love everything spicy. When TABASCO asked me to write a post about their
TABASCO® Original Red
not only did I say "Heck Yeah", I decided I'd create a new recipe just for the occasion.
I've enjoyed TABASCO for years. Ever since I can remember actually. It goes with everything from eggs to clam chowder and is really good on pizza with ham, pineapple and banana peppers. You also can't have a Bloody Mary without it. Just saying. It adds a little heat and that twang only TABASCO can provide. Seriously. If you've never added a couple drops to your clam chowder, and you like a little heat, you HAVE to try it. Get back to me on what you think. I'll wait.
I like to make a somewhat (ok, very) unhealthy dish of spicy chicken tenderloins using TABASCO but decided to try the same recipe with pork chops. This is a Paula Dean type recipe... lots of butter. It's one meal, and one of the rare meals (on the growing list) the whole family will eat,
You will need
1 stick of butter (you can substitute, but I use real butter)
1 cup of flour (seasoned with salt and pepper)
6 pork chops (mine were 1/4 inch thick)
TABASCO 2-3 Tbsp
Start by melting the butter in a pan.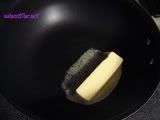 When butter is melted, add the TABASCO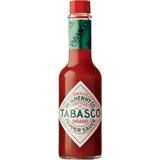 Take your pretty pork chops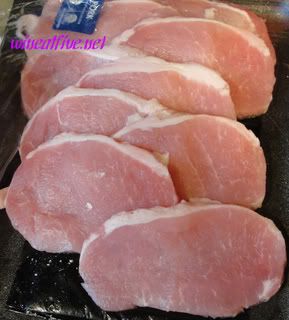 Mix together your flour with liberal amounts of salt and pepper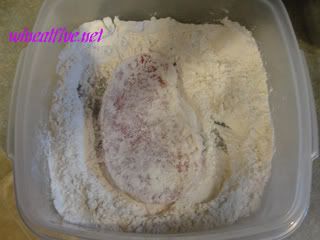 Fully coat chops in the flour mixture and put them in the pan. I was chicken to take a picture because I didn't want the splatter to get on my lens. Imagine the pork chops cooking. It make the house smell really good too.
Let cook for about 8-10 minutes on each side. I cook a little longer because we like the coating crunchy.
Serve up with your favorite sides for a dish no one can resist.
I like to use the leftover butter/TABASCO in the pan to flavor my rice crunchies and all. YUM!
I do make the kids chops first, before adding the TABASCO, but Puddin Pop will eat the spicy leftovers.
For more ideas on how to use TABASCO check out their
Game-Day Party Menu
. But don't wait for game day to try them.